Dr. Vidya Nair
Vice Chairperson
Second generation entrepreneur, Dr. Vidya Nair is the eldest daughter of Udaybhaskar Nair. She is a board member and Director engaged in the strategic planning & execution of Orange City Hospital & Research Institute.
Prior to joining Orange City Hospital, as an Educational Commission for Foreign Medical Graduate ( ECFMG) certified Dr. Vidya practiced Psychiatry in the United States of America at Veterans Affairs Medical Centre, Washington, D.C. and Richmond University Medical Centre, New York.
She worked closely with patients suffering from Post Traumatic Stress Disorder and she regards Neuroplasticity & Psychosomatic medicine as the future in mental health.
Her experience in mental health has expanded her empathetic potential.
Her contribution in research focused on molecular mechanism that link Hyperinsulinemia to sodium retention and hypertension for the Department of Internal Medicine at Georgetown University, Washington, D.C. gives her a broader perspective towards Clinical Medicine.
Dr. Vidya Nair pursued her Masters in Business Administration from Johns Hopkins University and specialized in Healthcare Management. After joining Orange City Hospital in 2016. Dr. Vidya, spear headed initiatives of hospital Quality management and patient safety.
Under her leadership, Orange City Hospital is the only hospital in the city to be NABH accredited completely, directly in one go in 2018 and today it stands as the 1st hospital in the city and under 50 hospitals in the country to be reaccredited as per the latest edition. She is also responsible for strategic partnerships, new initiatives & hospital transformation projects. She has been an integral part since inception in Project Geetha as Orange City Hospital remains the only private hospital in Central India to tie up with Tata Trust.
Innovative thinking and research is integral for human civilization to move forward. Dr. Vidya is convinced that Technology is the only force multiplier to scale the healthcare for masses.
Metamorphosis
What an honor, privilege and responsibility indeed my sisters and I share, to carry the legacy of the past twenty five years forward! We are grateful to everyone who came before us and continue to teach and inspire us to achieve our vision. The only constant in life is Change – Heraclitus Orange City Hospital has been the pioneer for healthcare in Central India. The hospital in its present exalted status has made others emulate the quality work environment and patient care in the city. Practice of high standards of business ethics, a fervent commitment to excellence and the glory of team work are the cornerstones of OCHRI. In the past three decades, Healthcare in India has transformed from distributed specialties into a consolidated one-stop shop for patient care.
It has benefited patients & families with easy access to services with uninterrupted care. We accelerated the change and refined the care model to meet the needs of the city and around. To accomplish our mission we explored the social, cultural & economical issues in the community which were addressed by our hospital with various successful initiatives over the years. Growth happens when there is constant adaptation and revision. The behavioral pattern of the patient population has evolved since COVID pandemic struck. As the world shrinks with technology and innovations, we move forward with a broader perspective towards health for all.
Scarcity of advanced healthcare still continues in the neck of the woods. Our efforts will be towards providing support required to patients & families by taking care of the logistics, thus minimizing expensive travel by providing the highest quality care in the comfort of the patient's home. We plan to provide home health services and telehealth to low mobility and non-critical patients. We also understand patients' emergency situations take an emotional toll on the families.
In order to minimize the stress and enable close proximity; we are working towards offering comfortable housing and ancillary support to families. Our strong tie-ups with insurance & research institutes will help us minimize the financial burden to patients and receive affordable care. We want to also strengthen the chronic shortages in the health system as the Doctor and Nurse to patient ratio is skewed in India. The appalling statistics show the dire need for trained doctors and nurses as we focus on converting our institute for higher education in healthcare. To ensure continued success, judicious planning and investments are made with well planned expansion and international alliances. Generosity, loyalty to any cause, independence of views, positive attitude in any situation, however calamitous it may be, all attribute to who we are as a family.
OCHRI is an embodiment of my family's core values, culture, and relentless efforts to provide community service. OCHRI has remained steadfast with its resolution that no family shall grieve for want of better healthcare. OCHRI provides all the impetus one needs in working towards this shared mission. We are committed to continue the time honored tradition that Orange City Hospital h as nurtured a family like environment for all. People have been and will always be our strength. If one thing I have learnt for sure after living in three continents, it is this: The only thing that will ever matter is how you treat people and how you make them feel! At OCHRI, we promise that you will feel cared for and you matter. With the faith entrusted upon us by 1,03,759 families and guided by the wisdom from the past, we march ahead.
Dr. Vidya Nair
"We must act as if we answer to, and only answer to, our Ancestors, our children and the unborn."
– Amilcar Cabral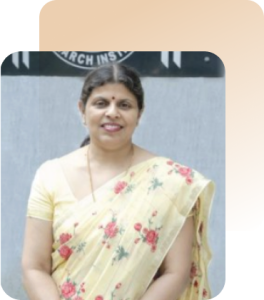 Dr. Usha Ravi Nair
Managing Director
Dr. Usha Nair, born and raised under the foothills of the Western Ghats in Palakkad, Kerala. She did her schooling near her home town. Thereafter, she went on to pursue graduation in BSc. Chemistry from SFS College, Nagpur.
She got her first experience working as a member of the Board of Directors in Nair Coal Services before receiving her medical education from Dr. Panjabrao Deshmukh Memorial Medical College, Amravati.
She was selected to Post graduate Certificate Course in Mammography from Tata Memorial Hospital, Mumbai, and returned to Nagpur as the first Mammographist of the city.
She was able to bring in her medical background combined with her administrative experience as she served as the Director of Ravi Nair Hospitals Pvt. Ltd.
She was bestowed with the title of Lead Auditor for ISO by the Quality Council of India. She is an ardent administrator and has worked tirelessly for the institution since Day One.
Dr. Usha is actively involved in the training program of junior administrative staff and chairs academic sessions for diploma candidates in hospital administration.
A Silver Lining
The past two-and-a-half decades have witnessed many ground-breaking developments in the establishment of the Orange City Hospital & Research Institute. At a time when there was a dearth of quality healthcare services in central India, we were faced with the mammoth task of setting up a multi-speciality medical institute from scratch. I was reined-in to serve as the youngest director of the institute in 1996. As a young graduate, I sometimes felt overwhelmed seated alongside some of the intellectual elites from the city. I was a novice in the field, but my mentors guided me through the process, and shared some tricks of the trade. A noteworthy incident of that time, which put OCHRI in the limelight, was the immediate resuscitation and quality medical service provided to an international passenger on a Singapore-bound flight, which made an emergency unscheduled landing at Nagpur airport.
This passenger's full recovery was a spectacular way to welcome the new year of 1998, and thus began our long-standing association with the Nagpur Airport Authority. Being the forefront of medical care in central India, we have never left any stone unturned in providing the latest technology and infrastructure for patient care.
Many doctors have been associated with OCHRI, and provided their services through us. It is encouraging to know that most of the top doctors in the city today had once been a part of OCHRI, and contributed to the mutual growth and recognition. The services rendered by OCHRI have also been acknowledged by many government and private establishments, who have come forward for empanelment with us. If there is one valuable lesson, I have learnt over these last 25 years – is not to disregard any calls coming at odd hours. Be it family, friends or otherwise, the number of lives saved due to timely action, and prompt medical care cannot be over-emphasized. However, the situation over the last two years; with the COVID pandemic stretching the Indian healthcare sector thin, has been a real eye-opener.
Despite receiving instructions from the government at short-notice, we were successfully able to serve and rescue thousands of patients, by operating at maximum capacity with far less mortality rate compared to the national average. Nevertheless, we were also forced to turn down many needy patients for want of beds and infrastructure.
Never have I envisaged such a scene, that we would have to refuse such distress calls. I only hope and pray that such a situation never arises again. For the next twenty five years and beyond I see OCHRI continue with the humane approach in providing hassle-free, affordable medical services to the largest sections of society crossing all boundaries. Lastly, the success story of OCHRI is incomplete without mentioning the contributions of all the medical, para-medical, administrative and other support staff serving the present as we grow and evolve as per the needs of time. Our loyal employees have put their heart and soul in the enrichment of the institution, and together are an integral part of the OCHRI family.
Dr. Usha Nair
"You are what your deepest desire is. As is your desire, so is your intention. As is your intention, so is your will. As is your will, so is your deed. As is your deed, so is your destiny."
-Upanishads

Smt. Divya Nair
Director
Serendipity
My biggest lesson learned yet would be while I was boarding as a student at Finishing School of Good Shepherd Institute, Ooty – With independence comes responsibility.
One of the things I picked up growing up from my parents was being connected to people. In my interaction with individuals from across the board, I realized I could bridge the gap. I found a sense of satisfaction by helping people find their livelihood.
As a company we have always been employee – centric and I truly believe that once we take care of our employees.
The employees will take care of our customers. My focus is creating awareness and fulfill the growing need of manpower within the Healthcare sector. With an increase in geriatric population within India, home health is the future need in Healthcare services.
As a woman entrepreneur, I have experienced the cultural challenges it present to girls and women. My aim is to integrate our platform into vulnerable communities, thus creating employment opportunities. Helping one person could change the whole world for that one person. We strive towards bringing women empowerment especially as they shape the future of a society as a whole.
I look forward to aligning my work with the hospital and do my bit in being able to provide a dignified life for all.
"The mission of your life should be to leave a better world behind than what you inherited."
– Sri Ravi Shankar

Dr. Vinaya Nair
Director
Heritage
Orange City Hospital has been a vital aspect of my life. I spent a lot of my after school hours as a child at the hospital, and witnessed first-hand the art of medicine and care-giving. This is probably what encouraged me to take up medicine as a career choice in the first place; now thinking about it. After completing my graduation (MBBS) from Amrita School of Medicine, Kochi, I returned to Nagpur, and served OCHRI as a resident medical officer, wherein I was exposed to the fields of Internal Medicine, Intensive and Critical Care.
My interest and passion towards these subjects grew with time. I also had the opportunity to attend rural medical camps and provide healthcare facilities to the poor and downtrodden sections of Mauda region of Maharashtra. Thereafter, I got an opportunity to work as a resident in Critical Care Medicine at Jaslok Hospital, Mumbai.
Subsequently, I went on to pursue my post-graduation – MD Anaesthesiology from Jawaharlal Nehru Medical College, DMIMS, Sawangi, Wardha. Following this, I served as a consultant Anaesthesiologist at several private hospitals in Lucknow, UP. Currently, while I prioritize the time with my two year old son; my focus is to pursue working in the field of Intensive Care Medicine.
I also like to enrich my skills in baking, gourmet cooking and gardening; time permitting.
My vision for OCHRI in the coming years is to build the institute into a centre of excellence for various medical and surgical subspecialties wherever there is void. Also, to establish state- of- the- art modular facilities, and develop the ICU and critical care team to one of the best in the country. In the coming years, we would help Nagpur become a regional hub for medical and surgical specialties.
"Heritage of the past is the seed that brings forth the harvest of the future"
– Wendell Phillips