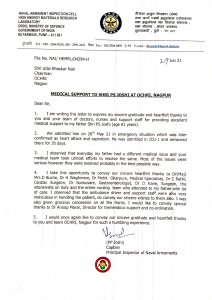 MEDICAL SUPPORT TO SHRI. PS JOSHI AT OCHRI, NAGPUR
Dear Sir,
1. I am writing this letter to express my sincere gratitude and heartfelt thanks to you and your team of doctors, nurses and support staff for providing excellent medical support to my father PS Joshi(age 81 Years).
2. We admitted him on 21st May in emergency situation which was later confirmed as heart attack and aspiration. he was admitted in ICU-1 and remained there for 30 days.
3. I observed that everyday my father had a different medical issue and your medical team took atmost effort to resolve the same. Most of the issues were serious however they were resolved probably in the best possible way.
4. I take this opportunity to convey our sincere heartfelt thanks to Dr.(Maj) Mrs. D Buche, Dr. H Waghmare, Dr. Mohit Gharpure, Medical specialists, Dr. C Rathi, Cardiac surgeon, Dr. Sonkusare, Gastroenterologist, Dr. D Kane, Surgeon, the intensivists on duty and the entire nursing team who attended to my father with lot of care. I observed that the ambulance driver and support staff were also very meticulous in handling the patient, do convey our sincere wishes to them also. I was also given gracious concession on all the fronts. I would like to convey special thanks to Dr. Anoop Marar, Director for tremendous support and co-ordination.
5. I would once again like to convey our sincere gratitude and heartfelt thanks to you and team OCHRI, Nagpur for such a humbling experience.
PP JOSHI
Captain
Principal Inspector of Naval Armaments