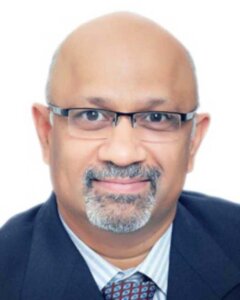 Is it really twenty years since I joined Orange city hospital? Gosh!! I can remember it like it happened yesterday
I had just relocated to Nagpur, and to be honest, in my defense as a middle class Maharashtrian, I was job hunting. I remember my meeting with the then directors Dr. Ajay Mehta, Dr. Suchitra Mehta and Dr. Usha Nair. I remember us talking about my passion for orthopedics, and how I had come from a great trauma care center and how Nagpur was ready for a trauma care center of the same kind. I think I spoke animatedly, and the one cup of coffee that was ordered for me, became two cups and then three.
I was subsequently asked to meet Respected Udaybhaskarji, and I remember myself trying to impress him with words like vision, bottom line, profits etc.  He listened patiently to this upstart and must have smiled inwardly. I think I was naive and stupid. I asked for a job, and was told that there were no jobs on offer but they were happy to have me become a consultant with regular OPD hours, admission rights and surgical slots. My joy knew no boundaries.
I remember my first case, a fractured patella, in a class one government officer said that he had only one vice, that he slept in late and woke up at twelve. I should have learnt then to let sleeping dogs lie. It has been one hell of a roller coaster ride and my graph has had its ups and downs. I recount some of my favorite Orange City stories.
As I said I had come from a world class trauma care center and it was known for its focus on asepsis. Imagine my horror then, when in the middle of surgery, at a trust hospital l had joined, about the same time I joined OCHRI, I notice a colleague who has walked into the OR with one palm over her head (her"cap") and one palm over her mouth (her mask) asking me how much time I was going to take. Swallowing my anger, I came that evening to OCHRI, and happened to see a child with a fracture who required a closed reduction in the OR. I remember Sandhya Sister telling me, "Sorry Sir, you cannot enter the OR without changing into scrubs. I feigned anger, tried to cajole her, tried all the tricks in the book, and she would not budge. Next day I made it a point to meet Sister Michael who had her sword out and sharpened, while Sandhya cowered in anxiety as to what I was going to complain to the sister in charge. Much to her surprise, I praised Sr. Michael, telling her that I was happy she ran such a tight ship, and that if the discipline she set was followed to the word even when she was not there, then that spoke well about her. From that day, Sr. Michael became a friend; I used to call her mummy, and I miss her like crazy.
Days melted into months and the months have slowly melted into years. In the early months, I'd be overjoyed operating a single case a week; and man is a greedy animal… I even had days when I wasn't happy operating three a day I was, as I said earlier, stupid and angry and naive, and I made the best of friends, and the worst of professional enemies at OCHRI
OCHRI gave me so much, so damn much. I honed my operative skills on the brimstone of OCHRI.  Casualty, and I like to think I matured as a surgeon thanks to OCHRI. My friends and colleagues helped me keep my ethical compass pointing northward all the time and never once was I tempted to extend the indications for surgery. I was able to interact with stalwarts like Dr. Jay Deshmukh, Dr.Acharya, Dr Sudhir Tomey and so many others.
Somewhere along the way, OCHRI was blessed with Dr. Anup Marari and I have no shame in admitting that his vision and direction, and his skills as a Man Manager have taken OCHRI to the heights it has reached He was instrumental in work reaching epic proportions, and there were times when I didn't really agree with his policies, and yet there is no denying his pivotal role in making OCHRI a major player in the healthcare system Nagpur offers to the society. I can still hear him calling me to the casualty to be a part of the team treating a much loved minister after an accident, or a blast at a factory in MIDC.
An incident comes to mind. I had joined a group called TIE, and heard a business owner talk about converting his competition into his customers. The thought stayed with me and I wondered how I could apply this to my work. That week I happened to treat an Acetabular fracture, which lead to my Eureka moment and as I stand today, as a National faculty on Felviacetabular surgery on various podia, is it then a surprise that all my slides, at all presentations have the OCHRI logo in the lower right hand corner.
A book I read once was called "Who moved my Cheese", a brilliantly written short story of great importance. I regret that I moved the cheese of some of my seniors, when I joined OCHRI, and I got a major chunk of the work that started flowing into OCHRI Little did I realize that someday my cheese would be moved too, and I bear no ill will at all. Having my cheese moved got me out of my slumber and complacency and for that too, I am ever grateful to OCHRI. And as I watch the young guns take over the orthopedic work at OCHRI, I am tempted to remind them of a line from the poem Excalibur, "the old order changeth giving place to new" I feel like telling them that Dr. Tushar Bhure left them a legacy, and it's their moral duty to take it further.
I could go on and on about this, and write more, like leaves on an autumn forest ground, what a huge bonfire it would make. One last one before I say adieu!
A few years ago, I was called to operate on Dr. Suchitra Mehta's father who broke his hip. It was a tricky case, with the elderly gentleman having many medical complications. Thankfully the surgery went off well, and the patient was up and about after his hip replacement. The time for the awkward moment came when ma'am called me to ask for my charges. I respectfully declined to accept any and said, "Ma'am, I was paid in full, with three cups of coffee at a meeting…. Twenty years ago!!!!!
Dr. Nirbhay Karandikar
Senior Orthopedician