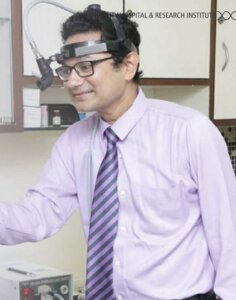 I can never believe that "my" OCHRI is 25-year-old! I recollect my first visit to Orange City Hospital & Research Institute back in 2003. As a qualified and trained ENT Post graduate, I wanted to establish my own identity after my return to home city. Those days, ENT department was not existing in OCHRI. But I had heard about the good multi speciality mix, critical care and operation theatre infrastructure available at OCHRI. As soon as I entered the complex, I felt at home when Dr. Usha Nair welcomed me with a smile. Subsequently, I met  Shri.Uday Bhaskar Nair with whom I struck an instant rapport which continues till today wherein I am proudly called upon as his Son.
Looking back, I can proudly state that I could develop ENT department from scratch i.e. from a ENT OPD to its pinnacle in form of Cochlear Implant surgery. This would not have been possible without the unconditional support of RNHPL board and all members of OCHRI family. The brotherhood dominant at OCHRI cannot be described. It has to be experienced. Be it monthly specialist lunch meets, GFC gatherings, Siddhi activities, Shivir camps, sports; all were a novelty and trendsetter endeavors executed at OCHRI. The values imbibed in OCHRI mates led not only me but many other specialists to ask some of them to join us in self-run units. The OT Technicians trained at OCHRI are in demand throughout Central India.
The friendship nurtured at OCHRI still continues with at least one much awaited monthly gathering of selected group specialists who are either attached or even left OCHRI. I can never forget my friend, philosopher and guide Dr. Anup Marar  who initiated so many indigenous methods and protocols at OCHRI that is rampantly copied not only by all central Indian hospitals but also is studied by many management schools. He is a genuine friend to whom almost all turn during any crisis.
The recent stint of Covid management at OCHRI wherein I was named as lncharge was also a life time experience wherein all OCHRI members were passionately united to save all incoming patients.
I can only state that my stay at OCHRI was golden period for me and I still fall back on OCHRI for any backup.
That is what trust is about. That is what family is about. God bless.
Dr. Nandu Kolwadkar
Senior ENT Surgeon