OCHRI Post Covid SHC in Bhavans – A trendsetter
Screening of children after 2 years of isolated online studies essential- Dr. Abhiram Chandran
Recently a team of doctors from Orange City Hospital & Research Institute owned by Ravi Nair Hospitals Private Limited conducted a preventive school health Check-up camp at Bhartiya Vidya Bhavan's BP Vidya & Bal Mandir, Civil Lines branch. Team of doctors screened more than 1500 students and addressed various important medical issues like general health, hygiene lifestyle diseases etc. Team of OCHRI doctors under leadership of Senior Pediatrician Dr. Abhiram Chandran namely Dr. Noorul Ameen, Dr. Kavita Dhurve, Dr. Azad Sheikh, Dr. Chandni Mankar, Dr. Usha Gawande, Dr. Aditi Sharma, Dr. Ashima Bagde, Dr. Sujata Biswas, Dr. Aditi Sharma, Dr. Asha Goveri, Dr. Rupali Kamble, Dr. Prathamesh Kotkar and Dr. Rohini Rahangdale screened the students. Sr Parshika Dive and Sr. Ashwini Uike assisted the doctors in this camp.
Dr. Noorul Ameen- OCHRI Medical Superintendent who was the Convener of this undertaking stated that being a Pediatrics Post Graduate Institute and availability of renowned senior Pediatrician Dr. Abhiram Chandran; many concerned schools are approaching OCHRI for such post Covid camps after school reopening which OCHRI is presently undertaking free of costs as a social activity.
On this occasion Dr. Anup Marar- OCHRI Director & Pediatrician said OCHRI as a Corporate Social Responsibility regularly organizes pediatric outreach program endeavors like School Health Surveys, Behavioral disorders detection and management, adolescent health and disability detection and correction camps.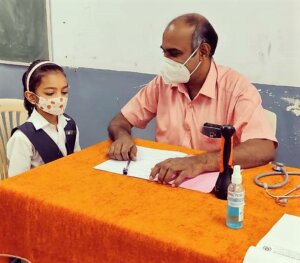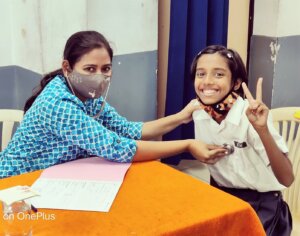 Dr. Abhiram Chandran- OCHRI Senior Pediatrician who is now rendering his expertise full time at OCHRI stated that these camps specially undertaken during post Covid times not only help in reducing morbidity & mortality in student groups but also help in assessing the mental framework of the students who have returned back to school after 2 years of isolated on line studies. In addition, regular school health examinations help to build a sound foundation for student's future. Under this novel social program, School Health Checkups have been initiated on a campaign basis by a team of OCHRI doctors in various schools under the name and style of "Aglee Peedhi".
Smt. Anju Butani, Principal, Bhartiya Vidya Bhavan School-Civil Lines, thanked OCHRI management for this selfless altruistic gesture in commencing the much needed post Covid assessment of children after reopening. Activity Incharge Smt. Balbir Kaur, Mr. Raju Dayal, Mrs. Niru Soni, Mr. W. Gomez, Mrs. Vrushali Deshmukh and Mrs. Arti Ahirrao from Bhavan's School worked hard for the success of this medical checkup camp.