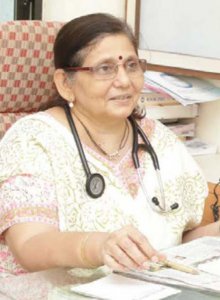 So it's Time! Our कर्मभूमी  Orange City Hospital & Research Institute is entering in 25th year of existence-A Silver Jubilee Year!
I have known this Institution from the beginning. In fact, I have attended the inauguration ceremony on Invitation of Dr. Jay Deshmukh Sir, one of the founder directors of the Institution. I was still serving in the Army and had little idea that shall come here after a while & get: permanently attached to the Institution.
As the life unfolded, I quit the Army, came to Nagpur and joined OCHRI in 1998. I still remember the day when we- me & my husband, had gone to meet CMD Shri. Udaybhaskar Nair Sir before joining and Sir assured my husband that we will take care of his family and that he should proceed to his field posting on the border and to this date he has stuck to his words and always looked after me.
So when I joined Orange City Hospital, it was a 28 bedded hospital with all modem equipment and facilities anyone could have in those days. We used to get variety of such patients coming from all over Central India. There was an unwritten, unspoken rule that any serious, difficult to treat patient-the choice of destination – a ray of hope of survival-was Orange City Hospital & Research Institute. Taking rounds, discussing treatment strategies & monitoring these patients gave us utmost satisfaction. And then there were stalwarts like Dr. Jay Deshmukh, Dr. S.M.Patil, Dr. Dilip Dhande and many more working with whom made a huge combination in my professional development.
As the time passed the institution has grown by leaps & bounds from 28 bedded hospital, it has become a 150 bedded hospital. One unique aspect of our hospital is that inspite of such. tremendous growth and achievements the working atmosphere has remained the same. We all feel that we belong to this place, this is our family. This feeling, I feel this is because of the directors specially Dr. Usha Nair whose smiling presence on the third floor is so reassuring.
I will fail in my duty if don't mention the help and support Orange City Family gave me when my husband met with a ghastly accident in 2017. Right from Dr. Anup Marar who immediately accompanied me to the site and arranged for his quick evacuation to our hospital to the surgeries followed by Physiotherapy City Hospital stood by me like a solid rock and my family could sail through these difficult days due to firm support of all members of this great family, I am ever grateful to each one of them for that. No wonder we the lady doctors of this hospital feel that Orange City Hospital is no less than our मायका !!
I am very glad and happy for the progress our institution has made over the years. Now the new generation is slowly establishing itself under the able leadership, I am sure that with the new blood will come new ideas, new opportunities, new avenues which will work surely Keep the flag flying high and it will remain the most sought after hospitals in central India.
Dr. (Maj.) Devayani Buche
MBBS, MD(Medicine), FIDM 
Senior Physician