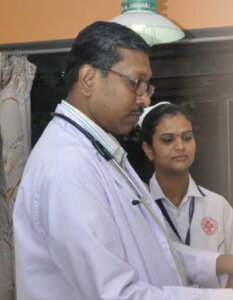 It's a matter of extreme pride and honor to me getting an opportunity to pen down a few lines for applaudable and praiseworthy achievement of service towards development and humanity. We call it Orange City Hospital and Research Institute" aka OCHRI! 
On its Silver Anniversary; where the service completes its selfless 25 years on 21 October 2021; where it stands tall and strong through its growing and developing years; I find utmost pleasure to see myself in its association.
Walking down the memory lane: my alliance with OCHRI has been astounding. Being educated in Mumbai shifting from a cosmopolitan to a metropolitan city wasn't all easy for me. Having worked with the high end hospitals in Mumbai I was in search of a multispecialty institute that would provide a niche to my super speciality training Back in 2002 I visited OCHRI: the only multispecialty hospital in Central India then.
I was very impressed by its very existence and the farsightedness of its management team, where such concepts were far beyond the thoughts of the locals. Though a novice for them; I was warmly greeted by Shri Udaybhaskarji Nair and Dr. Anup Marar Sir and was given an opportunity to work with them and prove myself.
This charged the aspirant in me and I swore to myself to be a part of it. OCHRI was a little child then, with dreams in its eyes, with arms open, with a desire to grow and expand and willing to incorporate newer technologies that would make it stand apart. I have grown along with it's growth.
It gave me the confidence to develop and sharpen my skills, to implement new techniques and to perform certain rare and difficult surgical procedures. All this wasn't really possible without the blessings from the seniors, endless support from the hospital management, my colleagues at workplace, staff and the hospital infrastructure.
When times demanded, I've put work above my family and home. It wouldn't be unfair to say that OCHRI for me is another home away from home. My expedition of 18 years with OCHRI has been memorable and fantastic and I pray to the Almighty for it to last till eternity
Thank you OCHRI for being one of its kind, for being the first ever institute to start a Corporate Culture in the field of medicine in Central India. Keep up the good work. You are Godsend for humanity. 
Dr. Darshan Rewanwar
M.Ch. (Plastic Surgery, Mumbai)
Plastic and Cosmetic Surgeon