Nagpur doctors hold Multi-speciality health camp in Trimurti Nagar Bhavans
Renowned Nagpur doctors partook in the camp coordinated by OCHRI
Orange City Hospital & Research Institute owned by Ravi Nair Hospitals Private Limited coordinated a Multi-speciality health camp for the teaching & non-teaching staff of Bhavan's Bhagwandas Purohit Vidya Mandir, Trimurti Nagar Branch, as a part of their ongoing social activities to commemorate their silver Jubilee Year. Team of doctors under leadership of Dr. Anup Marar namely Dr. Bindu Marar- Gynecologist, Dr. Sushant Muley- Chest Specialist, Dr. Arundhati Lote- Breast Surgeon, Dr. Rajashree Kapkar- Physician, Dr. Aashay Kekatpure- Orthopedician, Dr. Anagha Kulkarni- Urologist, Dr. Kavita Dhurve- Family Physician, Dr.Atul Dekate- Physiotherapist, Dr. Urvashi Gupta- Family Physician, Dr. Utkarsha Shah- Critical Care Physician and Dr. Palak Kusumgar- Ophthalmologist rendered their expert services. Dr. Vivek Salok, Dr. Prathamesh Kotkar, Dr. Rohini Rahangdale, Sr. Prashika Dive, Sr. Ashwini Uikey and Sr. Sonali Raut assisted them. Dr. Dinesh Agarwal – Pathologist & his team conducted free blood sugar estimation of all staff while Dr. Vivek Gupta- Chest Physician and his team conducted Pulmonary Function tests of all needy personnel. Dr. Noorul Ameen successfully coordinated this camp. Team of doctors screened more than 150 staff members and addressed various important medical issues like Hypertension, Diabetes, Thyroid Problems, Breast Disease, Chest Problems, Chronic pains and lifestyle diseases etc.
Earlier Dr. Vidya Nair- RNHPL Vice Chairperson presented OCHRI Loyalty Card to Smt. Parwati G. Iyer- Principal- Bhavan's B.P. Vidya Mandir, Trimurti Nagar in presence of Dr. Anup Marar- OCHRI Director. Dr. Vidya Nair announced that valuing the long standing association with educational establishments of Bhavan's; all teaching and non-teaching personnel of Bhavan's schools are eligible for OCHRI Loyalty card benefits.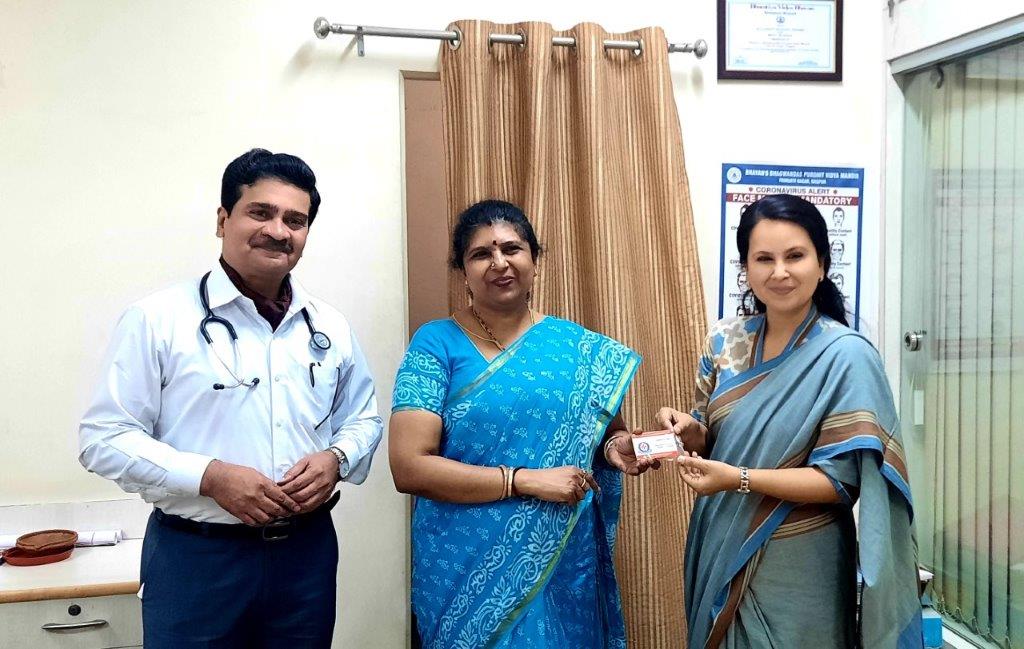 Smt. Parwati G Iyer, Principal, thanked OCHRI and all Nagpur medical professionals for proactively coming forward for conducting the much needed post Covid assessment of staff after reopening. Activity Incharge Smt. Avanti Shirbhaiye, Ms. Easter Tayade, Ms. Sheetal Chawre, Mr. Pankaj Thakur and Ms. Chaya Jambhulkar from Bhavan's School and Shri. Anil Dhakate and Shri. Chandu Tiwari from OCHRI worked hard for the success of this medical checkup camp.