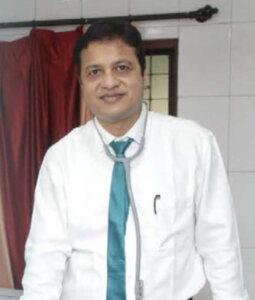 The Brand Ambassador of health, OCHRI is completing 25 year of uninterrupted service to Central Indians with the sole motto of "saving lives; Saving families". Witnessing such a historic moment is an honor for all and me and it gives me an opportunity to pen down my journey of almost 20 years with OCHRI.
"A Journey of a Thousand Miles Begins with a Single Step". It only feels like yesterday that I started working with OCHRI. My journey with OCHRI started in 2002 when I joined as CMO. 2 decades back OCHRI was the only corporate mult1speciality hospital in the region with 28 beds serving central Indians with dedicated 9 bedded intensive care unit. At that time, I was ignorant about healthcare management and administration. Looking at the ever smiling, calm & cool working style and compassionate nature of Dr. Anup Marar, I was eternal y motivated to explore little knowledge in the vast sea of hospital management & administration. After some years still working as CMO, I completed Post Graduation in Business Management. To my surprise one fine day, Dr. Anup Marar Sir called me, and asked me to join in administration department. My joy knew no bounds. but at the same time I was little anxious and hesitant. However, when you have Dr. Anup Marar & Dr. Usha Nair as your mentors and guides, and ever-supporting management you do not have to fear, and eventually I joined in administration department 2007. Over the period, Hospital grew to 150 bedded, state of the art tertiary care hospital with all facilities under one roof serving through 150 doctors and 30 departments. As the hospital expanded from 28 beds to 150 beds, I also progressed from CMO to Medical Superintendent.
"Enjoy the journey and try to get better everyday. And don't lose the passion and the Jove for what you do.· Dur ng last 15 years, OCHRI management has given me numerous opportunities to boost my knowledge and upgrade skills where in I attended many seminars. workshops and conferences in India& abroad. I was also entrusted and given complete freedom to lead and start with many new endeavors like Nagpur's first EMS service, Nursing school, ,YCMOU study center, Clinical Research unit, IOCCM course. CPS ,Medical services for WCT20/ One-day and test matches at VCA, Skill India projects and many more. It also gives me chance to closely work with beurocrats, IPS,IAS and other intellectuals in police department and various Government agencies.
TEAM OCHRl's commitment and sincerity have time to time proved its worth and have gained much deserved recognition and fame. With our services, the community has gained a lot. OCHRI has always kept patient satisfaction as priority and have never resorted to any wrong means for any work.
Employees consider it a privilege working in Orange City(Hospital where they get all facilities possible. OCHRI not only provides a learning platform but also offers a growing career curve for them. We call l an OCHRI family because of integrity, mutual respect and goodwill amongst management and staff.
The journey continuing with OCHRI so far has been very exciting rewarding and fruitful. I am thankful to everyone who has been part of my journey. I am indebted to OCHRI management led by our Chairman Shri. Uday bhaskar Nair and all board members for continuous support, encouragement and opportunt1es.
OCHRI with a brilliant team of dedicated workers and with a friendly work environment can only aim for high results. Working with OCHRI has been a real honor and we value each and every moment .May the coming years bring more fortune and prosperity. May we stay true to our ethics and mesmerize the world with our dedication. Let us always remember that teamwork makes the dream work come true.
Dr. Noorul Ameen
Medical Superintendent