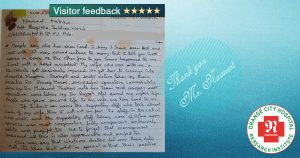 People say who has seen God. I say I have seen God and met with. It may sound untrue to many. But I tell you God comes in some of the other form to you. Same happened to me. 
I met with a road accident. My wife who was with me in the vehicle got seriously injured. We got her to Orange City Hospital, Nagpur. Prompt and swift action taken by their director Dr. Anoop Marar, successful operation immediately done by Dr. Mukund Thakur with his team and proper post operative care taken by Dr. Rajesh Atal saved my wife's life. People who gave second life to my wife are like God to me. If I didn't name the supporting staff who took atmost care of my wife, then it will not be fair. The staff in the critical are unit and the supporting staff taking care of delux room service was most cooperative, fully responsive, extremely polite and prompt too. Not to forget that management behind all this is also appreciable and perfect too.One may say that whatever doctors did was their duty, well, its true. But what is special is that, their positive attitude, willingness they have, proper and prompt service they give, care they take and their proactive approach is adorable which I have seen rarely. Now I can say that my wife is in good, perfect and safe hands.
My stay in Orange City hospital has many positive memories. I wish to give special thanks to Dr. Anoop Marar, Dr. Mukund Thakur, Dr. Rajesh Atal for the splendid and great job they did. I wish them the brightest of future and good luck to Orange City hospital and their chairman Sri. Uday Bhaskar and the whole management. I also promise that as a business person and also as a senior journalist, which i am since last 30 years, will surely advocate the name and work of Orange City Hospital and the three doctors which I named earlier.
with lot many thanks and good wishes
Navneet Kabra
Gadarwara (MP)