Dr.Vidya Nair addresses on NABH in AMWICON 2019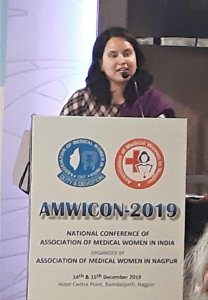 Nagpur based Orange City Hospital & Research Institute (OCHRI) a unit of Ravi Nair Hospitals Private Limited (RNHPL) is a hospital which is continually improving the health care delivery system. NABH had granted FULL accreditation to OCHRI wherein they will now display Mark of excellence- NABH Accredited Hospital.
National Accreditation Board for Hospitals & Healthcare Providers (NABH) is a constituent board of Quality Council of India, set up to establish and operate accreditation program for healthcare organizations. The uniqueness of this NABH endorsement lay in the fact that OCHRI ventured to proceed directly for attainment of FULL accreditation without going through customary entry level channel in single stroke with no re-inspection which was an historic accomplishment for a 150 bedded multi-super speciality hospital with varied scope of services & specialities with a large panel of doctors. Various quality teams under diligent specialists undertake regular surveillance and keep a check on the compliance of quality protocols at OCHRI. Dr. Vidya Nair- RNHPL Director heads the quality division at OCHRI.
Recently Dr. Vidya Nair was invited to deliver an address as a faculty on "NABH Accreditation and hospital administration" in the session "What I was not taught in Medical School? During the recently held National Conference of Association of Medical Women in India, AMWICON 2019 on 14th & 15th December 2019 at Hotel Centre Point, Ramdaspeth, Nagpur.
Apart from sensitising the delegates about self-assessment, tool kits, process checklists, process standards, process documentation and project audit; she stressed the need to make quality a habit and not an act as quoted by Aristotle since safety of patients and staff is crucial and should be assured in any health care settings.  She added that the assurance of quality is a hallmark of health care and with the adoption NABH protocols, it becomes important and more visible.
Dr. Nalini Kurve-Organizing Chairperson, Dr.Mrudul Chande- President AMWN, Dr.Alka Mukherjee & Dr. Kshama Kedar Organizing Secretaries along with Dr.Prachi Mahajan- Chairpersons Scientific, AMWICON 2019 worked hard for the success of this novel event aimed to provide a common platform to all women practioneers from all specialities.