The Nephrology department provides hemodialysis, and peritoneal dialysis. It also deals with kidney biopsies, interventional nephrology, and boasts of a dedicated cell for information on kidney transplants.
RENAL TRANSPLANT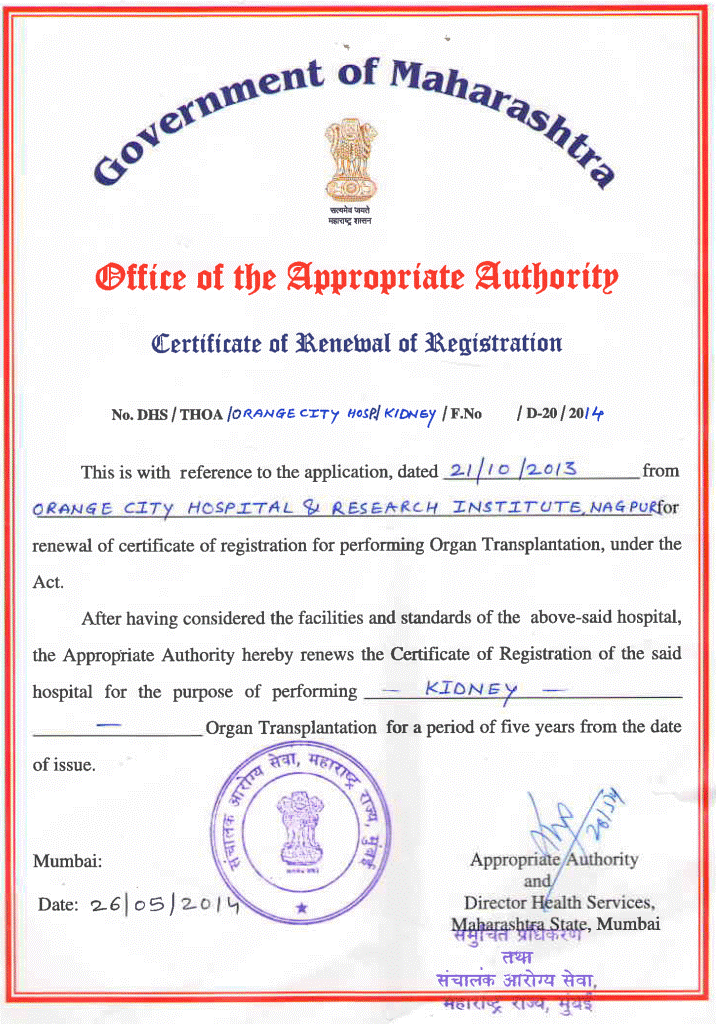 ORANGE CITY HOSPITAL & RESEARCH INSTITUTE, NAGPUR-440015
OCHRI/AMM/2019/203
Date: 18th, May 2019
NOTICE
Subject : Renal Transplant of Mr. Chandrashekhar Mendhe
Reference: DHS/HOTA/Renewal Certificate/Orange City Hospital/Nagpur/D-20/14 dated 26.05.2014
Approval by Government authorisation committee dated 16/05/2019
Greetings! This has reference to above cited approval received from Government Authorisation Committee- Nagpur. Mrs. Shashikala Gopichand Mendhe (Mother) is donating kidney to Mr. Chandrashekhar Gopichand Mendhe (Son). It is herewith conveyed that the said renal transplant surgery is now provisionally scheduled on Wednesday 22.05.2019 at 7 am.
Dr. Dhananjay Bokare, Dr. Sandeep Deshmukh, Dr. Amit Deshpande Urologist & Dr. Rohit Gupta- Vascular Surgeon, constitutes the surgical team. Dr.
S.J.Acharya- Nephrologist is overall coordinator of said endeavor.
Dr. Smita Harkare, MD will be the OT Coordinator aided by Dr. Neeta Deshpande, Dr. Anita Pande while Dr. Rajesh Atal/Dr. Nikhil Balnkhe will pursue medical coordination on our behalf. Dr.Rohit Gupta will be the vascular surgeon to assist the recipient surgeon. On duty intensivists, Dr. Anit Prakash & Dr.Kavita Dhurvey will coordinate the Pre & Post operative care arrangements in RTPT Room and assist the surgical team in requisite pre, intra and post operative care of said donor and recipient.
Nursing I/c, WSS, CCU 1 & 2 will pursue pre & post nursing care of donor & recipient along with Nursing I/c, DW.
Mrs. Manjiri Damle will ensure compilation of requisite documents as per statutory rules and post surgery intimation to statutory authorities as per norms.
RMO's on duty, NA, CCU 1 & 2 & DW are directed to ensure that all possible care is rendered to donor and recipient as per applicable statutory norms.
OT, NA, CCU1, CCU2, DW, Pathology, Radiology & Pharmacy In charges are requested to interact with Dr.S.J.Acharya for planning the arrangements to prevent any shortcomings.
Dr. Usha Nair
Director
Copy for kind information, confirmation, & records to:
Resp. DGHS (Mumbai)/DMER (Mumbai)/ Dean, GMC (Nagpur).
Through fax/mail for kind information and records.
Please feel free to convey query/objections if any before the surgery which is
scheduled on 22.05.2019. The Board, OCHRI All above concerned please ED (Accounts) OCHRI PRA I/c, OCHRI
The Notice Boards: WL/Main/New, OCHRI. For display to public for objections if any.