CISF Staff survives  Snake Bite at
Orange City Hospital
35 year old male,  CISF personnel Shri.Sagar Gawai on night duty at Airport quarters was  brought to the Emergency Room of Orange City Hospital & Research Institute (OCHRI), Nagpur with alleged h/o snake bite on Rt. foot. Shri. Sachin Gaikwad CISF Rserve Inspector timely coordinated with Shri. Prashant Tichkule (Public Relations – OCHRI) who promptly made the necessary arrangements before the patient as shifted to Orange City Hospital.
At the time of admission, the patient complained of tightness of chest and pain in Rt. foot in casualty. Suspecting poisonous snake bite, the patient was immediately shifted to CCU. By the time he reached CCU, he rapidly started deteriorating by showing signs of respiratory distress and other complications which makes it more likely to be a case of King Cobra having bitten. He was immediately resuscitated & intubated by Dr. Mohit Gharpure (Intensivist) .
Dr. Hemant Waghmare (Internal Medicine Physician) attended the patient during emergency hrs in ICU. Pt was put on ventilator support. ICU Team consisting of Dr. Aves Hasan (Medical Officer) and Nursing team namely Sr. Prachita, Sr.Jaya and Sr. Rimeshwari assisted during emergency.  Therapeutic dose of Anti snake venom (ASV) was immediately started with other supportive treatment as per protocol.
The patient is under treatment of  Dr. Rajesh Atal – Senior Critical Care Physician and now has recovered with no neurological deficit & no sequelae (side effects) of Neuroleptic Snake bite.
Earlier, Shri. Jitender Singh Rathore, Deputy Commandant, CISF (ASG) Nagpur had visited the hospital and appreciated OCHRI management for their services provided to CISF officers and their families over the years. Shri. Suresh Thorat, CHM CISF also visited the hospital to see the progress of the patient as he has been shifted to the ward and especially thank the Emergency Care Team along with the entire OCHRI staff currently involved in the management of the patient.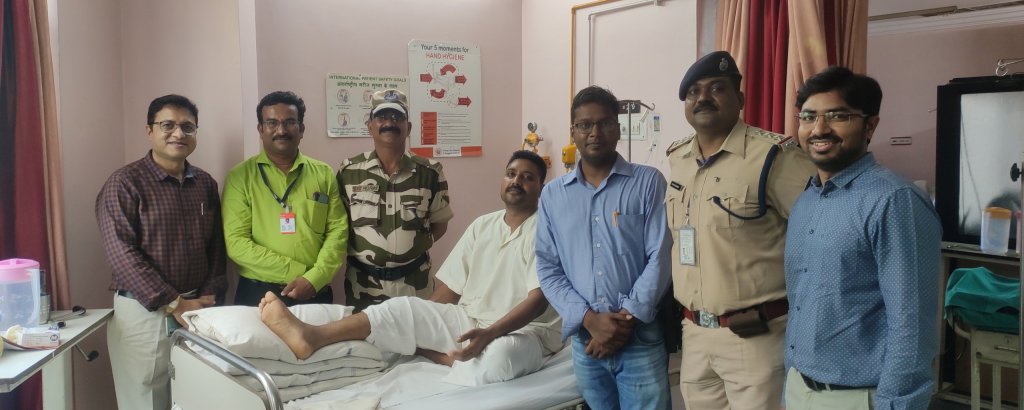 Dr. Noorul Ameen (Medical Superintendent) who was present at the time of receiving the patient added that locals must note that no home remedy like applying mud or cutting the wound should be tried. The patient must be kept in an immobile position with tourniquet application and rushed to hospital which has the expertise in treating snake bites. Once the ASV is given to the patient, recovery happens depending on the severity and amount of the snake venom in the body.
Orange City Hospital & Research Institute is among the few private Critical Care Centres in Nagpur city which has anti-snake venom (ASV) treatment available along with 24×7 stationed round the clock trained group of Critical Care specialists for rendering timely treatment. OCHRI has completed more than 25 years of public service and established its neiche in emergency services over the years.