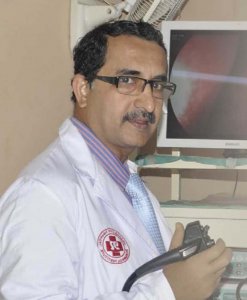 This is a great honor to write for souvenir of OCHRI. Nagpur at 25years. I worked & learned at this institution through these many years. Indeed my own career would not have taken the course it has without OCHRI
In 1998, I arrived in the city of Nagpur, brimming with enthusiasm to start Gl Surgical practice. Then, Gl Surgery as sub or Super Specialty was not practiced here. I soon realized if I am to survive, I shall have to deliver excellent results and practice with certain ethical principles. The only way seemed to be joining some hospital, which will be providing excellent infrastructure, dedicated manpower and futuristic vision. Having already worked in Sir Ganga Ram Hospital Delhi, I was keen to join similar environment and thanks to my good luck, I got entry to OCHRI then an upcoming and very first corporate structure in Nagpur's healthcare industry. 
G.I.Surgery as Sub Super Specialty started in India 1990 onwards involved dealing with those problems which general surgeons would avoid for lack of time or expertise of their complex nature. We soon started performing all those major operation at OCHRI. The list includes resections for Cancer of esophagus, livier pancreas, gallbladders, shunts for portal hypertension, ileal pouches for chronic ulcerative colitis etc. Our major chunk of the surgeries involved reoperations for complications occurred elsewhere.
At the end of one complete year i.e. in Dec. 1999, We brought out our first open annual audit, There were 64 admissions, 58 operations with a total mortality of 6%. This all became possible because of great operation theatre, discipline & dedicated help from anesthesia Intensive Care Radiology and Gastroenterology colleagues at OCHRI.
In ensuing years, the referrals and patients increased and likewise operations. We undertook numerous and more complex surgeries. We soon will come out with 25 years audit at GI Surgery Unit.
Investing in health is not only the right thing to do morally and ethically. It's the SMART thing to do economically. I am happy when tlook at CHRI and my personal growth on this front. OCHRI has provided focused and much needed extension on quantifying and improving the quality of healthcare services in central India. This was very evident during perhaps the greatest public health challenges of our time the COVID-19 Pandemic.
 Going forward from there, let me suggest three area where OCHRI can have profound and lasting impact. These are – Security, Equity and Delivery
Security – Our mission 'Saving lives, Saving families' statement should ensure that people don't fall into poverty simply to pay for healthcare they need. None should be referred to Govt setup simply for lack of funds. 

Equity – In present enormous and rapidly growing field of health, running a big healthcare setup needs equity. This would take care of all stakeholders interest and help the growth.

Delivery – This is utmost important. The science of delivery of healthcare services and its safety protocols are well developed. We need to implement them by bridging the gaps in our systems. As Martin Luther King said, the arc of history is long, but it bends towards justice. Though it does not happen on its own. We in OCHRI at 25 years, have the opportunity to grab that are and bend it towards justice and towards our mission of "Saving lives: Saving families". I am pleased to be here to celebrate the vast achievements. I hope that we will still be there in 2046, to celebrate that historic moments and achievements together
Dr. Sudhir Tomey
MBBS, MS, MCh (GI Surgery)
Senior G.I. Surgeon