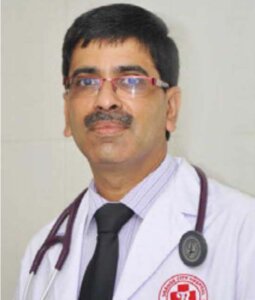 After completing my post graduation in Medicine and my training in Critical care in Mumbai I came to Nagpur with no godfather to back on. After few days of anxious moments mixed with nervousness and with applications in different hospitals I landed up in Orange City Hospital and Research Institute.
My joy knew no bounds when I saw Dr. Usha Nair in the seat of Director of the Hospital. She happened to be my college mate and in an instant I knew that this was going to be my work place for life time. Our chemistry worked well and it is now 21 years and our bond has stood the test of time and has become stronger with time.
OCHRI (as we call it fondly) has grown leaps and bound in last 25 years.I have seen it grow from the 28 bedded first truly corporate hospital to a now 150 bedded Multispecialty hospital with four fold increase in the number of critical care beds.
OCHRI has truly been a boon to the people in Central India. 25 years back when people had to go to Metro cities for their healthcare,OCHRI had made state of art facilities available in their own area.
OCHRI has been a launching pad many of the upcoming Doctors in Central India. OCHRI has been in frontline in the field of Medical education and has been successfully running post graduate courses in different specialties of Medicine and Nursing.
As a member of OCHRI family I am proud to be associated with this esteemed organization for last 21 years and I still cherish the decision I took 21 years back to join this hospital. Hospital administration has always been very supportive and cooperative and most important absolutely non interfering in clinical work. They have always acted as facilitators with complete commitment to the health and welfare of society.
I have no doubt to say that whatever small achievement I have achieved in my life OCHRI has always been a part of it. I pay my regards to Chairman Shri Udaybhaskar Nair and his family for accommodating me and making me a part of this august organization.
My best wishes to all RNHPL Board members on the Silver jubilee of the premier Institute and I wish to write again on the successful Golden Jubilee of the Hospital.
Dr Rajesh Atal
Senior Critical Care Physician