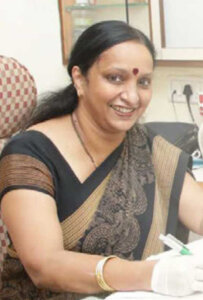 Started this journey in December 2000 as a fresh post graduate immediately after passing DGO. When I joined this wonderful OCHRI family, there was no Gynecology or Obstetrics Department. So I used to spend hours waiting for the patients. Gradually patients started trickling in and with the very able guidance and support of my esteemed teacher Dr. Sindhu Bhute, our department started blossoming.
I have to mention the continuous encouragement and support given to me by our R/ Chairman Shri Udaybhaskar Nair, Smt Vilasini Nair and Dr. Usha Nair who reposed confidence in me inspite of me being a newbie. I was really privileged when Nair family considered me to take care of all the gynecological and obstetrics needs of their daughters. The absolute confidence they had in me gave me the boost to provide the best and sincerest service to incoming patients.
I have very fond memories of working with two special ladies who are very dear to me even now, my dear Sr. Michael and Sr. Baby. They have fed me from their own tiffins many a times when I was waiting for long hours for a patient to deliver. I have been very lucky to have Dr. Bhute Madam as my teacher to whom I attribute whatever clinical acumen and surgical skill I have attained. Every surgeon knows the importance of having a reliable and supportive anesthetist. I have been blessed to have all this in my dear Trimurti Anesthetists friends at OCHRI.
In 2005, we were joined by expert and most proficient Laparoscopic Surgeon Dr. Mukund Thakur. I have to mention that I am lucky to have a mentor like him. We were already doing Diagnostic laparoscopy. Lap TLs and Lap Ovarian Cysts surgeries. With Dr. Mukund Thakur Sir joining us, our Repertoire expanded to Lap. Hysterectomies, Myomectomies and Vault repairs.
No obstetrician is successful without a competent pediatrician which I was blessed to have been associated with Dr. Kuldeep Sukhadeve initially and subsequently Dr. Vivek Shivhare. Throughout the years, we have successfully managed hundreds of medical and surgical high-risk Obstetrics and Gynecology cases. In our department, we have operated so many huge and multiple Myomas ranging from 10 to 20 centimeters and by God's grace and thanks to the skilled surgery, they have been blessed with babies whom we have happily delivered. Of course, I will fail in my duty if I don't mention the able support of our dear Physicians Dr. Devyani Buche, Dr. Nikhil Balankhe, Dr. Rajesh Atal and Dr. Veena Bang. Special mention of Dr. Neetu Hedaoo for the sincere work rendered and round-the-clock service provided and also Dr. Madhuri Likhitkar who although not working with us now, but had a long association with us. Since 3-4 years, we have also started CPS DGO courses and our two students have passed in first attempt and are practicing well in respective hometowns.
Last but not the least, my greatest inspiration and pillar of strength, my husband Dr. Anup Marar. His unstinting support and ever dependable advice during my bad and good days has made a world of difference in my professional life. Praying to God to give us health to provide many more years of service to society at OCHRI
Dr. Bindu Menon
Senior Consultant Incharge
Obstetrics & Gynecology